Curating ☼┈ ✻
SELECTED PROJECTS
How To Trap A Demon
(2022)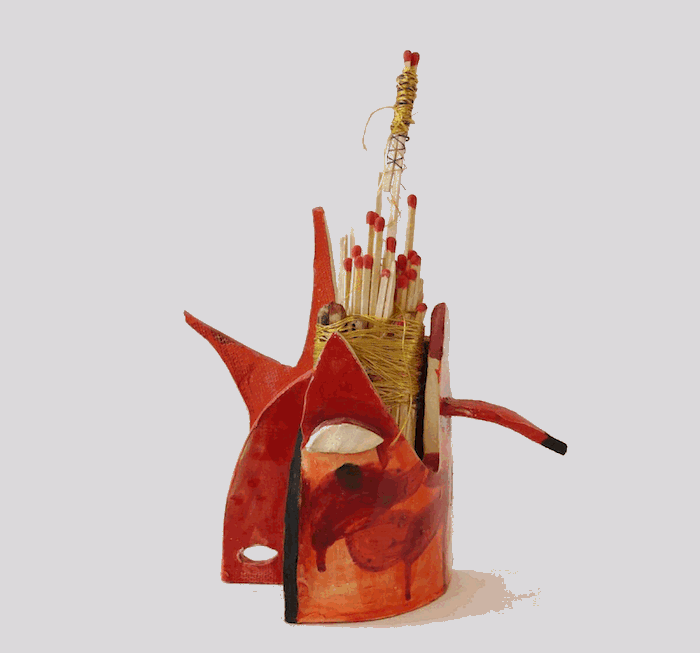 Tamar Ettun
,
Fire Trap
,
2022.
Presented by SUNY Purchase's Richard and Dolly Maass Gallery,
Tamar Ettun: How to Trap A Demon
is an exhibition conjuring the aerial spirit demon, Lilit (Lilith), whose story traces back to ancient Sumerian, Akkadian, and Judaic mythology. In medical-magical traditions from the 2nd-7th century, Lilit appeared on incantation bowls, a healing technology used to protect against demons, who were thought to cause illness, pain, and loss. Just as scientific treatment is accepted today, artist-healers of the time would create spells, drawings, and talismanic objects to bind demons (most often, Lilit). Tamar Ettun revives these rituals by creating demon traps of various scales and materials — clay, iron, textiles, in performance and video — but also proposes a conceptual shift, told from Lilit's perspective as the healer. The exhibition parts with the historical gender binarism that associates Lilith's archetype with unchecked violence and manipulation; here, Lilit mediates the inner demons and renegade instincts that are deliberately silenced. Asking us to consider whose stories, memories, and experiences are occluded in the process of demonization,
How to Trap A Demon
builds on the artist's research into the insidious side of empathy, empathy fatigue, trauma-healing modalities, and astrology as storytelling.
Artist: Tamar Ettun
Press Release (PDF)
PRESS
"
Tamar Ettun Demonstrates How To Trap A Demon
" by Pearl Fontaine for Whitewall Magazine
TITLE TBD
(2020)
Jeff Kasper
,
things remembered [how long do I practice before I become?]
,
2018.
TITLE TBD
is a multiform exhibition inviting you into the survival journeys of artists and arts workers navigating a precarious arts ecosystem, presented by
The Cleveland Institute of Art's Reinberger Gallery
. The show's participants view the failure of cooperation between individuals and institutions as seeds for building autonomy, affirming community, and transforming culture.
Lukaza Branfman-Verissimo
,
Natalia Nakazawa
, and
Emily Mae Smith
highlight resilience in the face of institutional and historical oppression.
Thomas Barger
and
Ariane Loze
offer personal narratives on 'becoming,' and
Jeff Kasper's
tools for trauma-informed relationships reflect a desired paradigm shift. Finding personal liberation bound up in collective wellbeing,
⚙️️Admin
,
Adult Kindergarten
, and
GenderFail
prototype peer support mechanisms and deconstruct the success-failure binary.
Artists: ⚙️️Admin, Adult Kindergarten, Thomas Barger, Lukaza Branfman-Verissimo, GenderFail, Jeff Kasper, Ariane Loze, Natalia Nakazawa, Emily Mae Smith
PRESS
"Cleveland Institute of Art's TITLE TBD show surveys artists' survival strategies in an age of anxiety,"
by Steve Litt for Cleveland Plain Dealer
"
Reinberger's TITLE TBD takes on new meaning, post-COVID
" by Michael C. Butz for CAN Journal
The Doubtful Host
(2019), curated with Gatien Du Bois
Pauline Lavogez & Théo Médina,
De la douceur
(performance), 2019.
What is it that curators seek to repair when they say that "hosting" and "care" is part of their practice? Can relationship modes exist that are non-transactional, that promote the autonomy of all parties, or anti-oppressive frameworks? We open the
Penthouse Art Residency
as a site to expand on these questions. Incidentally, the Penthouse Art Residency is both a guest of the hotel NH Brussels Bloom, and a host to a changing roster of international artists and curators.
Participants: Haunted Cerebral, Maja Ćiric, Ariane Loze, Niamh McCann, Pauline Lavogez & Théo Médina
RELATED PROGRAM
Reading Room #7: Guest-Host Relations,
produced by
No New Enemies
,
Harlan Levey Projects
, &
Caveat
Apparatus 2.0: Nespolehlivá knihovna / The Unreliable Library
(2018), curated with Tereza Jindrová and
Michelle Levy
The Unreliable Library
is an exhibition resulting from a multilevel collaboration between artists and organizers from Prague and New York City. Taking place in the reconstructed
FCCA
library, the exhibition will reflect on how we gather research and build knowledge about culture, and on the library as a space for slow processes of contemplation and discovery. This exhibition expands on its predecessor,
Apparatus for a Utopian Image
(2016) at EFA Project Space in New York; initiated by artists Pavla Sceranková and Dušan Zahoranský to encourage a dialogue between artists from Prague and New York City.
Apparatus 2.0
deepens the engagement by facilitating long-distance collaborations between the same artists, bringing the New York group to meet their Prague counterparts during opening week. Each working group has been invited to consider their experiences – in different cities, under their respective cultural conditions – to see how these aspects shape the artists understanding of images. Some questions posed by participants are: What sense do we make of a decentralized, unsystematic, and unreliable library? Is art practice an apparatus to distract us from mortality? What does an Eastern-Western diary of the past look like? Is knowledge built (like a tower) or excavated (from a pit)? What is art the solution for?
Artists: Matěj Al-Ali, Keren Benbenisty, Tyler Coburn, David Court, Sean Fader, Kara Hearn, Zebadiah Keneally, Alena Kotzmannová, Tomáš Moravec, Freya Powell, Markéta Othová, Elisabeth Smolarz, Magda Stanová, Tomáš Svoboda, Dannielle Tegeder, Jiří Thýn